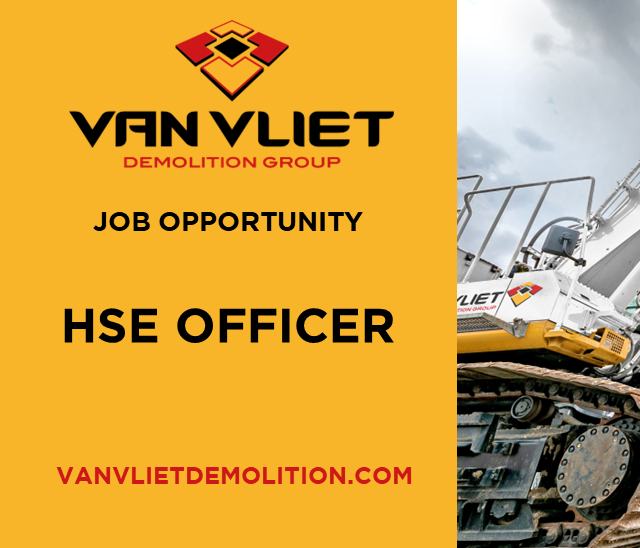 What are we looking for?
We are looking for an enthusiastic, independent HSE Officer who works in accordance with "Safety first".
What does the position entail?
In this role, you are responsible for continuously monitoring HSE issues and, in consultation with SHEQ Manager, improving HSE issues for our operations. You will report to the Group SHEQ Manager. Besides supporting the project leaders with the preparation of safety plans, TRAs, etc. for our projects, you will maintain contacts with our clients and stimulate safety awareness among all our employees and subcontractors.
Van Vliet works according to the highest safety standards, as used in the petrochemical sector.
Your duties will include:
- Supporting project team(s) with H&S plans, work plans and Task Risk Analyses
- Liaising with clients on HSE-related matters
- Co-managing and checking work files
- Conduct Workplace inspections, Toolbox meetings and audits with leadership teams
What you have to offer:
- MVK diploma
- Experience as an HSE Officer in project organisation
- Experience with demolition and/or asbestos projects is a plus
- VCA-VOL
- Good command of Dutch and English language
- Good command of Microsoft office package
- driver's licence B
We offer you:
- A compact, dynamic, and informal team to work in. Your work location is our head office in Gorinchem. As part of this role, you will regularly visit sites in the Benelux
- The most challenging and complex demolition and asbestos projects in both the oil and gas, petrochemical, industrial and civil sectors
- An excellent salary (market-based)
- All the education and training you need to develop yourself in your field of work
- Company car, Laptop and smartphone


If you have any questions regarding this vacancy, please feel free to e-mail them to: hr@vanvlietdemolition.com. You can also contact us by phone at +31(0)183 730 100.
Are you looking for a challenge and do you see yourself as the perfect person for this position? Then don't hesitate and send your motivation letter and CV to: hr@vanvlietdemolition.com